There are many ways that you can try the sport of Archery.
Have-a-Go
We attend several entertainment events in the local area each year where we have targets set up and you can have a go at archery. Watch out for us at events such as the Holmfirth Duck Race and Slaithwaite Country Fair.
The Big Weekend
Every year, usually in May, there is a nationwide event where archery clubs throw open their doors for anyone to come along and have a go at archery. Go to our Big Weekend page for more details.
Taster Sessions
Usually a two hour session held at our archery range, a taster session will allow you to shoot a load of arrows at a target and introduce you to the basic techniques of archery.
Over the years we have provided Taster sessions for groups such as the Women's Institute, the Round Table, Scout groups and Schools.  If you, your family or your friends would like to have a Taster Session, please use the form below to submit a request.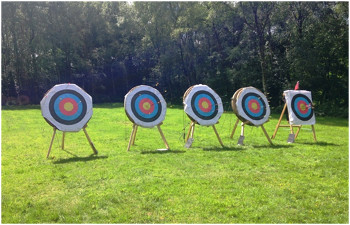 Corporate Entertainment and Team Building
Please get in touch using the form below if you would like us to host an archery event for your company.
Beginners Course
To become a member of our club and our governing body, ArcheryGB, you must have completed our Beginner Course or a similar course at another ArcheryGB recognised club.
Because we have been unable to run any courses since March 2020 we now have a sizeable waiting list and have a programme of back-to-back courses running throughout the remainder of this year. In 2022 we expect to be running at least one course per month.
This year, each course is run on 3 consecutive Saturdays from 12:00 through to 15:00 with a brief mid-session break for refreshments.
The course will cover all the basics of archery including range safety, the correct shooting technique, scoring and retrieving arrows as well as the setup of equipment including bows and bosses. During the course there will also be a bow demonstration giving you an opportunity see and learn about different styles of bows. Once you have completed the course you will be issued with a certificate of achievement.
All the necessary equipment is provided and if you choose to join the club we offer a loan scheme to allow you to start shooting before having to purchase you own equipment.
For more information about our beginner course please complete the form below.
---
---