Due to the Covid 19 pandemic please note all beginner courses / have-a-go's / Coaching sessions / Taster sessions which had been booked over the past 12 months have had to be postponed for now.
Over the coming few months we hope to complete a small number of courses but with drastically reduced attendees.
We will contact all those who have booked courses and made recent enquiries about courses, once it's deemed safe and the guidance / legislation allows us to do so.
There are many ways that you can try out the sport of Archery.
The Big Weekend
Every year, usually in May, there is a nationwide event where archery clubs throw open their doors for anyone to come along and have a go archery. Go to our Big Weekend page for more details.
Beginners Course
To join our club (or any other Archery GB affiliated club) you need to have completed a 6 session beginner course. Go to our Beginners Course page for more details
Taster Sessions
If you, your family or your friends would like to have a Taster Session, please use the form below to submit a request.
Have-a-Go
Similar to taster sessions but for larger groups of people. Over the years we have providied Have-a-Go sessions for groups such the Womens Institue, the Round Table, Scout groups and Schools. Please complete the form below to register your interest in a Have-a-Go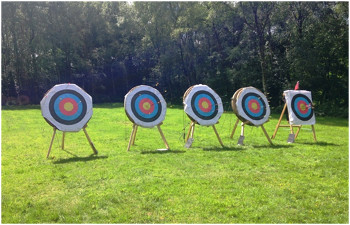 Corporate Entertainment and Team Building
Please get in touch using the form below if you would like us to host an archery event for your company